Nothing makes my heart melt quite like weddings. I ALWAYS cry. There's just something about two people starting this new life together. They have stars in their eyes are full of hopes and dreams, unable to see the trials and hurdles that loom ahead. But I know they're coming and maybe that's why the tears. Or maybe it's having personal knowledge of everything the couple had to endure to even reach the altar. Or maybe I'm nothing but a hopeless romantic.
Getting married is serious business with me. It means commitment and determination, to stand side by side for the long haul and find joy in being with the person you love.
My parents married during the Depression on April 14, 1934. They were homeless and lived in a migrant camp. Mama had to borrow a pair of shoes from one of the women because she didn't own any and she wore an old dress. Daddy wore overalls. They faced hard times aplenty. But they stuck together and weathered every storm.
I've had two marriages and both spouses have passed over. Neither were a piece of cake, but I faced both good times and bad with them.
I love writing wedding scenes into my stories and have quite a few times. In fact, I wrote two of them into TWICE A TEXAS BRIDE. A very private one out of necessity and the second to proclaim their deep love and devotion to the world. In FOREVER HIS TEXAS BRIDE that will be out on Dec. 1, Brett Liberty and Rayna Harper yearn to marry more than anything but hate and prejudice stands in the way and Brett refuses to bring the danger that surrounds him to his one and only love. You'll be happy to know that while I didn't write the actual scene, they do marry and have a happily ever after.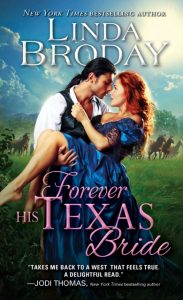 Happy endings are the heart and soul of romance, both real and fictional. They have to work very hard for it though. It's not just handed to them. Have you ever wondered what happened to the handsome prince and Cinderella after the glass slipper fit and they ran toward the golden carriage?
I have. I wonder if the king welcomed her or disowned his son for marrying a commoner? I choose to believe (maybe it's the romantic in me) that soon after, the prince and Cinderella became king and queen and that they had many children.
But getting back to my subject…I also cry when I write wedding scenes into my books. Though in these instances it's no mystery. It's because they've gone through so much in order to stand before the preacher. Frankly, I really put my characters through the wringer and make them earn their happy ending.
So how about you? Do you get a big lump in your throat and tears well up in your eyes at weddings? Or maybe it doesn't affect you. In which case, tell me about a wedding you attended.
Leave a comment for a chance to win a western Christmas ornament.