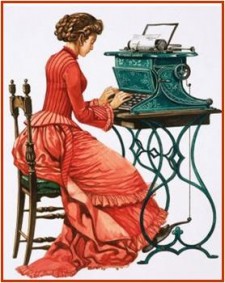 Back in the days (a long, long time ago it seems) before computers, cell phones, i-pads, and text messaging, people wrote letters. Lots of letters. They were elegant and sincere and the wording was often flowery. Letters expressed matters of the heart simply, but with style and usually in a flowing script. Letters created a permanent form of communication that could be bundled up, tied with a bow and kept forever in a treasured place. The receivers often took them out and reread them to re-live the connection they had with the sender.
In the old West, it took weeks or months sometime to receive a letter and the waiting increased their value I think. When the letter finally got into the hands of the intended, they read it until they often wore the paper thin while they waited patiently for the next one.
Letters strengthened a bond between two people and said exactly what was in their hearts. Letters spoke of love and commitment, loneliness and desire, and of thoughts and dreams that they dared not speak in person. Society was so constricted with rules that it was only through putting thoughts on paper that they could express what was truly in their heart without fear of censure.
John Donne wrote: "More than kisses, letters mingle souls."
I think romance writer Mary Schramski says it best though: "There was a time when the world was gentle, and love letters floated down into waiting hands of the recipients like snowflakes."
Truly she knew what it was like, for this romance author was quite the letter-writer.
The story I wrote for the "Give Me a Texan" anthology a few years ago is called The Love Letter. In the story, Payton McCord and his best friend, both died-in-the-wool cowboys, love playing practical jokes on each other. But, their antics kinda got out of hand after Payton almost cost his friend his marriage. To get even, the man who'd once saved Payton's life writes a love letter to a much maligned woman who raises sheep but signs Payton's initials to it.
This is the letter Payton's friend wrote: "I yearn to see the beauty of your face, hear the tone of your voice, and inhale your fragrance that wafts in the wind like a million wildflowers in bloom.  Please meet me in Amarillo by morning in the lobby of the hotel.  Then, you shall know the love I speak.  Look for the crescent birthmark on my right hand and the adoration in my eyes."
That love letter set off a chain of events that no one could predict. Amanda Lemmons, the shepherdess and recipient of the love letter, suspects someone means to humiliate her in front of the whole town. Involved in a war with the cattlemen, she knows what lengths the ranchers will go in order to drive her off her land. Determined to outsmart them, she devises a plan to turn the tables on the Lothario letter-writer. Just let those cattle barons think they have the upper hand! What happens is humorous and entertaining and shows how a simple letter can change the hands of fate.
What do letters and/or cards mean to you and do you have any you saved? I have one my husband wrote to me that I wouldn't take any amount of money for. He died in 2006. And being a man of few words, he voiced what was in his heart. It's beautiful.