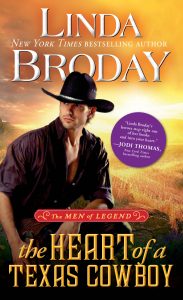 I'm so excited to have THE HEART OF A TEXAS COWBOY out in one week. This is Book #2 Men of Legend and features Houston Legend and I think it's my best novel yet.
Houston is hard at work on the ranch books one Monday when his father comes in and announces that he gambled away ½ of the Lone Star Ranch. Over 200,000 acres is gone just like that in one hand of cards.
But…Houston can get it back for them. All he has to do is marry the daughter of the new owner and give her baby a name.
Despite anger and resentment toward his father, he does. And so this marriage of convenience story is off and running and he settles into a tenuous relationship with Lara Boone–a woman he'd never met.
Two weeks following the ceremony, he decides to take a large herd of longhorns up the Great Western Trail to Dodge City where he can get triple the money. At the last minute, his cook quits and Lara steps into the job.
This story is full of danger and suspense with an unfolding love story woven throughout. They're beset by a group of outlaws in Indian Territory and the outcome appears uncertain.
Most of the story is set in Indian Territory. So what exactly was it?
Its wild, untamed land that eventually became Oklahoma. The federal government set the land aside for the five civilized native tribes to live on—Cherokee, Choctaw, Chickasaw, Creek, and Seminole. The only law other than Indian was a handful of U.S. Marshals, but they were stretched mighty thin.
Indian Territory became a place to hide for outlaws, train robbers, and murderers. They could ride into the neighboring states, commit their crimes, and ride back to safety. And they did that for a lot of years until Oklahoma became a state in 1907.
Until it became a state, Judge Isaac Parker ruled over this territory. He in turn appointed a few U.S. Marshals to try to curb the lawlessness but it was far more land than the marshals could cover. Outlaws ran roughshod over them.
So when Houston and his drovers find themselves fighting to stay alive, there was no law to help them. They were completely on their own.
I hope you'll give this book a try. I'm very happy with the reviews it's getting. Book #3 To Marry a Texas Outlaw comes out in November with a thrilling conclusion of the series.
My question….what is it about marriage of convenience stories that draw you? I'm giving away a copy of the book to two people who post a comment on this blog.