From a mysterious town hidden on the banks of Big Cypress Bayou in the swamps of East Texas comes TEXAS REDEMPTION. This story is a reissue of Redemption that came out in 2005 and I'm so excited to have it back into readers' hands on February 7th.
Two brothers…one woman…and a final chance for Redemption.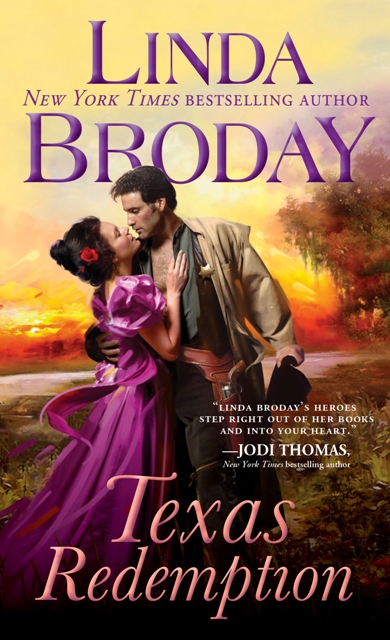 Brodie Yates, known as legendary spy Shenandoah during the Civil War, has been hunted for four long years by the U.S. army.  The army doesn't appear to know the war ended and is anxious to make him pay for his crimes. But Brodie is weary of it all and decides to go home to see this brother one last time. Redemption is a good place to make a final stand.
Laurel James lost her heart years ago to Shenandoah so her engagement to Redemption's town mayor and banker is merely a business proposition. It's a chance to redeem her soul and cleanse it of her sordid past. She can gain respectability and be able to look at herself in mirror again. Everything's perfect…until Shenandoah rides into town and strides into the small café that Laurel co-owns.
One glance tells her that she's still in love with him. There's no denying it.
Then she's shocked to discover that he's the mayor's brother—Brodie. He seems determined to wreck her safe life, threatening to tell his brother that she worked in a brothel during the war. He gives her three days to break off the engagement.
Only outlaws ride in and hold up the bank, shooting her fiancé. From there, the twists and turns take you on an exciting ride and it's anyone guess who'll come out on top.
One brother offers respect and redemption. The other his heart. Which will she choose?
For an excerpt on this site, click HERE.
I think the setting definitely enhances this story. It's sultry, dark, and mysterious—brooding even. Does the setting make any difference to you in a book?
I'm giving away (3) copies, print or e-book, so leave a comment.