When Sam Legend sauntered across the page during the writing of TO LOVE A TEXAS RANGER, my heart stopped, I swallowed hard, and I knew I had hit pay dirt. He's everything a hero needs. He's tall, dark and dangerous, a man you don't want to mess with. Sam doesn't quit. It may take him a while to even the score, but it will be evened, make no mistake about that. He had a good teacher in his father, Stoker Legend. Stoker came to Texas with his three brothers to fight in the war for independence. Stoker was the only one to make it through alive. To show appreciation for his service, General Sam Houston gave him five hundred acres of land in North Texas. Stoker turned that five hundred into a 480,000 acre ranch called The Lone Star. That land is his sons' legacy.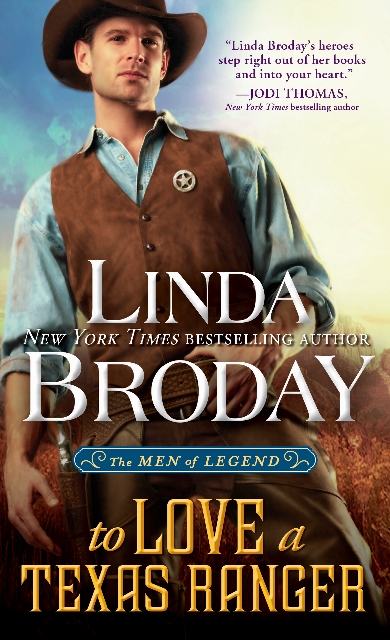 I'm so happy to have Sam sitting across from me. Let me tell you—it's really difficult to carry on a conversation. I keep losing my train of thought. I've never met a man like him. He's all muscle—all six foot three inches of him! And when he turns those gray eyes on me, I almost swallow my tongue. It's hard to form a thought with him staring at me. But, here goes…………….
Me: Sam, in Texas in 1877, being a Texas Ranger takes nerves of steel and a will of iron. Did you ever face danger and think you weren't going to get out alive?
Sam leans forward and stares into my eyes. His voice is gravelly and he puts a hand to the scar around his throat. "I had more than one occasion to doubt the chances of survival. The last time it happened some rustlers got the jump on me and hung me. I'll never forget that feeling as long as I live. I counted my heartbeats until darkness closed in. I couldn't breathe or swallow. I had nothing under my feet. I tell you, I thought I was done for. By all rights, I should be dead."
Me: How horrible! If you don't mind me asking, how did you make it to see another sunrise?
Sam sinks back into the chair and stretches out his long legs. "An outlaw with a price on his head named Luke Weston cut me down in time. Imagine my surprise that he turned out to be my brother. Heck, even Pa didn't know Luke existed. I'd been chasing him nigh onto a year, trying to catch him. Luke was a wily one."
Me: I heard your captain sent you home to get your head on straight. That must've been
Sam glances up with a wry smile and I was struck by his clear blue eyes. "It hurt, that's what it did. My captain had lost faith in my abilities to perform my job. Said I was a danger to me and my fellow rangers." He sighed. "That was a bad time and I was at my lowest. A Legend never failed to measure up—until then. I felt like I brought disgrace to the name."
Me: But it turned out all right. You met Sierra Hunt.
Sam's gaze softened at the mention of her name. "God, I love that woman. As beautiful as she is smart and she could sure kiss. Course I was a jackass and too dumb to see that compromise didn't mean I had to give up everything. She taught me a lot and thank goodness she never gave up on me. That woman is the main reason I get up in the mornings. I can't wait to spend it with her.
Me: She didn't have an easy life from what I hear.
Sam swore under his breath. "Her father tried his damnedest to destroy her. He forced her to live in those mountains far away from people and civilization. She had no friends. Not even a home. He dragged the whole family from pillar to post. They lived in caves and whatever they could find. Sierra, her brothers and mother had to scrounge for food because he failed to provide. He told Sierra he wished she was dead. I always wished I'd meet up with him one day and make him sorry he did that. But he died before I got to him. I reckon that's for the best."
Me: I hear you have a special bond with your brothers. Tell me how deep it goes.
Sam nodded: This says it all right here: We are blood. We are brothers. We are Legends. I would lay down my life in a heartbeat for them and they'd do the same for me. Can't get much deeper than that.
Me: What was that saying you have? The one about legends.
Sam's smile deepened the wrinkles at the corner of his eyes. I think I know the one you're talking about. Some legends are born, some are made, and some are created by destiny. I love that and it's really true. Us boys are all three.
Me: What about your father? How do you feel about Stoker?
Sam chuckled softly. "He's Lord almighty tough but there's no one I'd rather have next to me during good times and bad. Even though we butt heads a lot, I love that old man. He's tough for a reason and he made Houston and me the same way. The reason why he started our lessons at an early age was because he knew he wouldn't always be there to protect us so he wanted us able to survive anything on our own."
Me: Okay, I'm about done. Just tell me how Sierra changed your life and turned you from your wild ways.
Sam cocked his head to one side. "Has she been talking to you and telling you things?" He laughed. "That woman taught me that settling down didn't have to mean totally changing my life. I discovered I gained far more than I ever lost. She's a pretty good teacher and can lay down the law if she needs to. Sierra took me firmly in hand and made me see that life wasn't worth two cents if she wasn't in it." His voice became hoarse. "I love that woman with everything I have. When they lay her in the ground, you'll find me right beside her. I can't breathe without her. Sometimes when we're lying in bed, I pull her close and give thanks to the dear Lord for leading me to her."
Thanks, Sam. This was fun. Maybe I'll pick your brain again sometime. TO LOVE A TEXAS RANGER is finally out this week. Pick up a copy and meet the Legend family. Ride along with Sam as he chases outlaws and falls head-over-heels in love.
Click HERE for an excerpt.
I'm giving away three copies of the book. Just tell me why you like reading a series.