Well, it's only eight more days to the release of KNIGHT ON THE TEXAS PLAINS! But who's counting. For one…me. It's always exciting when a new book comes out–even a re-issued one as is the case here. I first published this book in 2002. Very few things were online which really limited the exposure. There were no such things as blogs or even the Internet in most homes. About the only publicity was word or mouth and newspapers. The only promotion was autographings.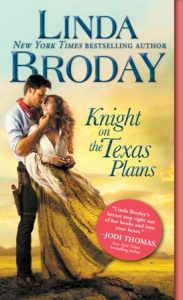 Here are some pictures from the very first one I did. It was at Books-a-Million in Wichita Falls and a lady came to buy my book. She told me that like Marley Rose (the baby in this book) she was won in a poker game. My mouth dropped open. I didn't know that this had happened to anyone other than friend Juanita.
I can't remember the scenerio but she stressed that she was very happy with the man who won her and his wife was a good mother to her. I simply can't imagine.
It was exciting times back then. I did a lot of autographings and usually the whole family showed up.
I wonder what pictures and places are in store for me with the re-release of this book. I don't think I can top these.
To win a copy of Knight on the Texas Plains with its beautiful new cover, tell me what draws your eye when you look at a cover. Is it the man and/or couple, the title, the colors–what catches your eye?