I'm so excited to launch a brand new series called Outlaw Mail Order Brides on January 29, 2019! The first book is The Outlaw's Mail Order Bride and it's about Clay Colby and Tally Shannon from the Men of Legend series.
A town founded by outlaws…Women needing protection…Lives that need saving.
Isn't this cover simply gorgeous? I just love it, and after you read it, you'll see how significant the campfire is and them dancing.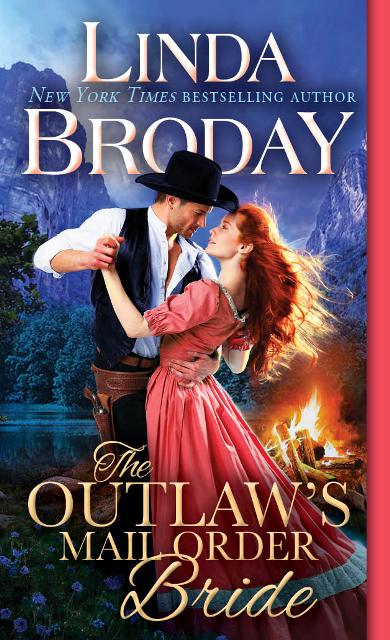 This series bleeds over from the Men of Legend and you'll see recurring characters. I just couldn't say goodbye to those hunky Legend men. And maybe you were having a hard time too.
Luke Legend and his wife, Josie, have started a private mail order bride service for men and women living in the shadows but yearning to step out and have families. They're tired of living on the run, listening for the sound of the bullet meant for them.
In most cases, they only took justice where they could find it. With no law to be had, men back then had to seek it for themselves. This is the case Clay finds himself in.
If you remember, you meet Tally Shannon in Book #1 Men of Legend – To Love a Texas Ranger. She was living with and protecting a group of escapees from the Creedmore Lunatic Asylum. I've received many letters asking if those women will ever be able to live outside Deliverance Canyon. My answer is yes. It happens in this book.
Clay Colby was a gunslinger and outlaw in Book #2 Men of Legend – The Heart of a Texas Cowboy. He was working for Houston Legend as head drover on their cattle drive. Clay yearns for a wife, a family. He's tired and wants to go straight—if everyone will let him.
Here are some short excerpts but there's more at this link:  https://www.lindabroday.com/books/outlaw-mail-order-brides/the-outlaws-mail-order-bride/
Clay stared helplessly at the destruction, his face hardening, as though his features were carved from stone. Tally thought maybe they were."Montana Black took exception to my town and decided to burn it to the ground. We had a bit of a skirmish that ended with me shooting the outlaw. Badly wounded, he escaped on a spotted gray, vowing to burn down the town every time we rebuild. I just don't know if I can make this happen." 
She waited, listening and learning the man she'd soon marry. Her heart ached for him and she understood exactly how he felt. He couldn't even look at her because he felt such a failure. If only she could slip her arm around him and offer a bit of comfort. But not yet.
She let her gaze take in Devil's Crossing, the crude dwellings, the tent saloon. The creak of a windmill drew her gaze. She closed her eyes for a second, soaking up the scrape and grind of the rod going up and down as it pumped water from the earth. When she was young, she'd often fallen asleep, lulled by the sound of the windmill. She hadn't realized how much she'd missed that until now.
* *  *
Tally had been the protector of those escapees from Creedmore—she was everyone's protector. Now she longed to be the protected one, to not have to lie awake listening.
Just for once, she wanted to know what being protected felt like.
Clay Colby appeared more than capable. But what sort of husband would he be? Domineering? An equal? She tried to see a bit of softness in him but failed. Tall and lean, he loomed over most, wearing a hardness like a shield that others carry into battle.
His strength appealed to her though. She didn't like weak men. Muscles in his arms rippled and his torn shirt stretched tight across his broad chest and back. Naughty tingles danced up her spine. Soon she'd lie beside this man, this outlaw. Already, he seemed too rugged, too…hot. Yes, he seemed hotblooded. Powerful.
The urge to take a step back came over her but she tilted her chin and met his stare.
* * *
Tally followed Clay into his dugout. She liked the strong set of his jaw and broad shoulders that wouldn't give under a heavy load.
The two-inch scar down his face and the Remington revolver swinging from his lean hip said he'd been through sheer hell and rode out the other side probably too many times to count. His dark hair that sported a few silver stands at the temples curled possessively over his collarless shirt like a gunslinger's hand around his gun.
She shifted her glance to the earthen abode, not caring that it was dug into a hillside. She loved the scent of the raw land and the safety of the canyon. A stack of leather laid in a corner, pink and yellow flowers on the table added an unexpected homey feel.
This outlaw surprised her in a lot of ways.
* * *
Tally's scared spitless about this undertaking, especially after escaping a mental institution. It really must've been terrifying to agree to marry a man sight unseen–especially when that person held your future in his hands. A lot of mail order brides were horribly abused but they stayed because there was nowhere else to go.
This book is available for preorder at these and other places: AMAZON | B&N | iBOOKS
Question: Would you have had the guts to marry someone without even seeing them first? To have faith that this person wouldn't hurt you? And to have nothing, absolutely zero, to fall back on. It could be a trap that you couldn't escape from.