As you're reading this, I'm in Las Vegas at the Rio Hotel for the RT Booklover's Convention. While I'm there, I thought you might like to get a peek into my office where I create these stories of mine. It's full of inspiration. I'll start with my desk. It used to be my husband's but when he passed away, I moved my things over into it so I'd feel his presence.
Over my left shoulder is a bookcase that holds my research books. I have quite an extensive collection with books on old west saloons, ladies of the night, real lawmen and outlaws, plants, birds and some on the Texas Rangers just to mention a few.
Next to it is a bookcase that holds writing "how to" books. Above it are some pictures that a dear friend gave me before she died.
And here is a picture of me in my office in the house I lived in when I wrote Knight on the Texas Plains, The Cowboy Who Came Calling and Redemption. From 2001-2006. I sure look young in this picture.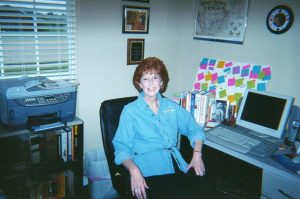 Okay, that's it. When I get back from the convention, I'll post some pictures so you can see all the fun I had.
Enjoy!!